Early Bird Discount
________________
DEVELOPER SALES TEAM HOTLINE (+65)6100 1308
About One Pearl Bank
One Pearl Bank Pearl Hill Outram MRT Station
One Pearl Bank is a new development located right in the heart of the core city centre by Capitaland. The development is the former iconic landmark horse-shoe shaped Pearl Bank Apartments that has successfully been sold to Capitaland through a private treaty agreement. One Pearl Bank represents the unique opportunity to own a prime piece of real estate that is located in the mature town of Outram Park that is located right next to Outram Park MRT Station. A unique city centre living experience awaits you at One Pearl Bank.
The development will consist of 2 curved towers that resembles the horse shoe 38 storeys former Pearl Bank Apartments to preserve the distinctive architecture in the background of Pearl's Hill. One Pearl Bank is slated for completion in 2023 and will be located at the top of Pearl's Hill. One Pearl Bank building will stand at a height of 178m which is one of the tallest residential towers in Singapore surpassing the nearby Pinnacle @ Duxton which stands at 156m. There will be a total of 39 storeys at One Pearl Bank and the development will consist of 774 prime residential units next to Outram MRT Station.
One Pearl Bank Capitaland
One Pearl Bank has full and unique facilities, which includes a guard house, clubhouse, function room, indoor gym, tennis court, 50m swimming pool, sun deck, BBQ pits & children's playground. The condo's facilities provide full family entertainment needs for your family and loved ones. Indulge in a serene and tranquil lifestyle right in the heart of Outram Park. One Pearl Bank psf and pricing details will be available soon. One Pearl Bank consist of welcoming spaces where one's care simply melt away. A home where Hygge unlocks the comforn and calm of the living spaces within to help you live well.
Using a private treaty with a collective cost of up to S$728, CapitaLand Limited has acquired the Pearl Bank Apartments at a total land price of S$1,515 per sq ft per gross floor area. One Pearl Bank has a 99-year leasehold sits on an area that measures 82, 378 sq. ft. The former Pearl Bank Apartments is located in Outram Park, Pearl's Hill. With a massive 7.45 plot ratio, Capitaland intends to redevelop the horse shoe shaped Pearl Bank Apartments and create a residential development of high-rise apartments with almost 800 units. One Pearl Bank showflat will be located near to the site itself and the launch date will be discussed soon. Additionally, One Pearl Bank Outram will have a wide variety of shared and social facilities which will be designed to enhance a sense of community and celebrate the unique cultural heritage of this area.


Unblock Views of One Pearl Bank to Sentosa and Central Business District
There are paranormal unblocked views that extends from Sentosa to CBD from the former Pearl Bank Apartments which consist of 288 units (280 apartments and eight commercial units)where there is an elevated ground of One Pearl Bank Condo which units will enjoy. One Pearl Bank Capitaland will enhance the architectural transformation of the Outram area and the owners strongly support the redevelopment of Pearl Bank Apartments which offers great city fringe coveted address of the worlds which is some steps from Chinatown cultural hubs which have private exclusivity nestled enclaved in some greenery lush of the Peral's hill. One Pearl Bank Capitaland also has some great connectivity which is nearer to the Outram MRT Station that is an interchanged triple line station with two highways that are Central and Ayer Rajah Expressway. The precinct Outram is transformed into healthcare, the wellness, and the research hub in an SGC campus that has a redevelopment plan of about 20 years by the Singhealth group of healthcare.
One Pearl Bank Former Pearl Bank Apartments
One Pearl Bank Condo prime site atop Pearl's Hill in Outram Park is also strategically located with many shopping centres located around in the vicinity. For example, the popular People Park's Complex, Chinatown Point as well as Central Mall at Clarke Quay are located near to One Pearl Bank. One Pearl Bank Condo is also located near to Pearl's Hill City Park where plenty of outdoor families are available for residents to spend some quality time with their family. One Pearl Bank review indicates that there is great demand for this historic site that plays part of Singapore History. This together with the shared facilities at One Pearl Bank Outram MRT Station Capitaland will foster community spirit and celebrate the estate's unique heritage and culture. Beyond its architecture marvel, One Pearl Bank enbloc also consist of adjoining sky bridges that links both towers together on top thereby providing residents with ample space for some fresh air atop Pearl's Hill. One Pearl Bank enbloc is truly a technological marvel that combines elegant living with serene space in the sky.
One Pearl Bank Capitaland is centrally located next to Outram Park MRT Station that serves 3 MRT Lines including the North-East Line, the East-West Line as well as the upcoming Thomson-East Coast Line. Also, for owners who are taking buses, there are several buses available along Eu Tong Seng Street and New Bridge Road. For owners who are traveling to the city, One Pearl Bank is located right next to Central Expressway (CTE).
One Pearl Bank is a brand new 99 years leasehold premium condominium development that is going to be launched soon in Singapore by Capitaland. The new condo will present 774 exclusive residential units comprises studio to penthouses. One Pearl Bank is a redevelopment of the tallest private residential building in Chinatown, Singapore named Pearl Bank Apartments, which was constructed long back in 1976. Capitaland successfully acquires this site and will keep a similar design as an ancestor.
The prime residential project represents a shape like a horseshoe close to Outram MRT Station was sold to Capitaland. It is situated right up the hill, residents will get to enjoy the 360 degrees unblock view of city and nature. The land area of this condominium development is approximately 613,530 sq ft and the expected sale price is around S$1,515psf GFA. One Pearl Bank next to Pearl's Hill City Park is close to several amenities and conveniences to serve future residents.


One Pearl Bank Developers
CapitaLand Ltd is one of the well established and largest real estate developers in Asia. The company was formed back in 2000, Pidemco Land and DBS Land were merged to develop Capitaland Ltd. One Pearl Bank developer has headquartered in and listed in Singapore. Capitaland Ltd has subsidiaries (CapitaRetail China Trust (REIT), CapitaMalls Malaysia Trust (REIT), CapitaCommercial Trust (REIT) (SGX: C38U), Ascott Residence Trust (REIT), CapitaMalls Asia, and more) in 30 countries and 160 cities working successfully around the globe. Their impressive business portfolio comprises residential developments, real estate investment trusts & development, shopping malls and commercial development.
Capitaland Ltd has several award-winning developments in Singapore, Vietnam, Indonesia, and now in China. Some of the groups in which Capitaland Ltd has 59.3% of ownership are CapitaLand Residential Singapore, CapitaValue Homes, CapitaLand Commercial, CapitaLand China Holdings, and Australand. There are committed to developing quality residences to serve different buyers with different needs. Their portfolio includes Cairnhill Nine, D'Leedon, Victoria Park Villas, The Orchard Residences, The Interlace, The Sky Habitat, and many more iconic developments to add on.


One Pearl Bank Location
One Pearl Bank is the redevelopment project of one of the tallest residential development in Singapore named Pearl Bank Apartments, which is located at Outram Park in District 3 of Chinatown, Singapore. The address of this newly launched development is 1 Pearl Bank, Singapore 169016. It is situated right next to Outram Park MRT Station. One Pearl Bank is a private residential real estate property and it is the only development that is situated next to Outram MRT station & Pearl's Hill City Park, contributing to exclusivity, safety, and privacy which is preferred by most of the investors and buyers. The development is strategically located in the central core region of Singapore, which is practically situated close to the financial heartbeat.
One Pearl Bank has proximity to several amenities and conveniences, as it is situated next to Pearl's Hill City Park. This location is preferred by several homeowners and investors as there will be more quality developments in the future to raise the value of the condominium. One Pearl Bank is an almost three-minutes of walking by sheltered linkway from Outram MRT Station, an extensive interchange triple line station that connects the East-West Line, the North-East Line, and the upcoming Thomson-East Coast Line. The condo is also linked to two highways, named Central Expressway and Ayer Rajah Expressway.
Project Detail
• Project Name: One Pearl Bank
• Location: Chinatown-Outram, Singapore
• Developer: CapitaLand
• Architect: Serie Architects and Multiply Architects
• Main Contractor: Tiong Seng Contractor PTE. LTD
• Plot Ratio: 8.1
• Tenure: 99-year leasehold
• Address: 1 Pearl Bank, Singapore 169016
• District: District 03
• Site Area: 82,376 square feet
• Gross Floor Area: 613,701 square feet
• Unit Types: Studio (431 sq ft) to Penthouses (2626 to 2788 sqft)
• Total Units & Height: 774 Units, 2 Towers comprises 39 levels
• Car Parking Lots: 620 lots + 5 handicapped lots
• Expected TOP Date: December 2023
Amenities and Conveniences
One Pearl Bank Condo located at former Pearl Bank apartments close to Outram MRT station & Pearl's hill city, this area is developed and converted into a pack full of amenities that is suitable for residence and you get to live a desirable life. There are a number of facilities and amenities in the vicinity that you do not have to travel so much to get the facilities. Pearl bank apartments close to Pearl's Hill City Park are the place that will give the feel of exclusivity and purity of nature to live in such a tranquil environment.
Transportation Networks: One Pearl Bank Condo is situated near to the Central Business District (CBD) and connected to extensive Roads and MRT Stations. Due to the great transportation system and Outram MRT station, you will get to save a lot of time to be on your desired destination. The future residents of One Pearl Bank can easily connect to Ayer Rajah Expressway (AYE) that links to Marina Bay Coastal Expressway (MCE). The Condominium has proximity to NE3 Outram Park MRT Station is 0.25km away, NE4 Chinatown MRT Station is 0.37km away, and EW16 Outram Park MRT. Several other stations offer complete train services named Queenstown, Redhill, Tong Bahru, and Commonwealth. Upcoming Thomson-East Coast Line, Maxwell MRT (TE18) is 0.49km away, and Havelock MRT station from One Pearl Bank will enhance the connectivity to another level.
Educational Institutes: One Pearl Bank zone is not just known for its bustling but it also has a variety of prestigious schools and educational institutes to deliver quality education in Singapore. The condominium area has educational institutes for every level of education from nurseries to universities. One Pearl Bank area is suitable for parents and kids because they get to enjoy the proximity and good education from reputable schools. Such as Cantonment Primary School is 0.28km away, River Valley Primary School is 1.38km away, CHIJ Kellock is 1.63km away, Outram Secondary School is 0.5km away, Eton House International School is 0.58km away from the condominium.
Some other educational institutes named Queenstown Primary School, Raffles Academy, Inspiration Design School, Zhangde Primary School, Duke-NUS Graduate Medical School, Gan Eng Seng School, MDIS (Management Development Institute of Singapore), and Global Indian International School are located close to One Pearl Bank Condo.
Shopping Centers: One Pearl Bank Former Pearl Bank apartments is an iconic building, have proximity to several renowned shopping centers are just a few minutes away. This area is also known as a shopping paradise because it has everything you need from groceries to eateries, retail shops to designer outlets, shopping plazas to boutiques, fashion shops to cosmetics stores. Future residents of One Pearl Bank will get to enjoy the utmost shopping experience as some of the malls are just walking distance away from the condo. Moreover, Pearls Centre just 6 mins from the residence that is next to Outram Park NE3/EW16 and Chinatown NE4 MRT.
Besides, Clarke Quay is another marvelous mall in the vicinity and it has several retail shops, godowns, warehouses, and many more. Some more options include Queensway Shopping Centre, Tiong Bahru Plaza, Chinatown Point, Concorde Shopping Centre, IKEA Alexandra, Alexandra Central Mall, Amara Shopping Centre, icon Village, 100 AM Shopping Mall and Anchorpoint.
Eateries and Dining Spots: District 3, Pearl's Bank zone is also known for its delicious and affordable food, as it has several well-established dining spots to enjoy the real taste. You have a variety of options to discover flavors such as Mei Ling Market & Food Centre, Commonwealth Crescent Food Centre, Alexandra Village Food Centre, Tanglin Halt Food Centre, Redhill Market & Food Centre, Tiong Bahru Market & Food Centre, and most popularly Shanghai Dim Sum situated at Mei Ling Food Centre. Moreover, these are some more options like Cafe Petit at Guan Chuan Street, Tiong Bahru Bakery at Eng Hoon Street, PoTeaTo at Yong Siak, and Ah Bong's Italian at Eng Hoon Street to set taste standards high in Singapore.
Redhill Market & Food Centre a very famous Yan Fried Bee Hoon is famous for delicious chicken wings. Besides, Tiong Bahru Market & Food Centre has renowned Ru Yi Vegetarian Stall, Tiong Bahru Fried Kway Teow, Hui Ji Fishball Noodles & Yong Tau Foo, and Jian Bo Chwee Kueh to discover flavor fusions close to One Pearl Bank condominium development.
Kids friendly spots: One Pearl Bank area is not just for grownups to enjoy but for kids also to enjoy. It has many options for kids as well to discover and engage & enjoy adventurous activities such as Chinatown Heritage Center, a must-visit place that you can visit with family and friends. Chinatown Heritage Center is located at the heart of Chinatown, which is only 5 mins walk from One Pearl Bank condominium. If you want to learn about and discover the history of Chinese ancestors then this would be the right place.
The recreational centers near One Pearl Bank have great space for kids to enjoy fun activities such as Tanjong Pagar Community Club and Kreta Ayer Community Center, The longest sky gardens are the 50th-storey Skybridge and Sky Garden at Pinnacle at Duxton houses. Some other options include Ann Siang Hill Park and Telok Ayer Green are great for kids.
Recreational centers: One Pearl Bank development is close to Queenstown Community Center, Kim Seng Community Centre and Henderson Community Centre. The recreational centers near Condo are devoted to maintaining recreation, fitness, and health for the community. Moreover, future residents of One Peral Bank condo by Capitaland will get to connect with other residents. The Queenstown Community Centre comprises a Multi-purpose room, reading room, music room, event room, badminton room, conference room and more.
Health Care Hubs: Along with every other amenity at One Pearl Bank there are many health care and medical hubs in the vicinity to serve mankind. One Pearl Bank Outram condo is close to many public as well as private hospitals. This area is suitable for families and individuals as it is close to medical hubs to cover emergencies. Singapore General Hospital is 6 mins away located at the corner, SGH the largest and oldest medical care hospital in Singapore. It covers all your healthcare needs, it has 500 specialists and 5000 staff.
Facilities Offered by One Pearl Bank
• One Pearl Bank by Capitaland offers basic as well as luxury facilities to future residents. The exclusive condo development has a
number of amenities and facilities.
• One Pearl Bank Outram condominium has very beautiful & spirited sky bridges that are the real beauty of this condo. This sky bridge
offers a tremendous view of its surroundings, all the zeal & zest of a city is commendably captured from upside.
• Allotment gardens are available at One Pearl Bank condominium. These are just like community gardens that the neighbors could
enjoy gardening together.
• One Pearl Bank offers a family pool facility as well as a separate pool for kids to enjoy swimming in the open air.
• A smart home system is installed in each and every unit and has a modular design of units.
• One Pearl Bank development has separate Children's Playground with an activity area to enjoy themselves at their residential place.
• One Pearl Bank condominium development has a Drop Off Point facility.
• Moreover, One Pearl Bank has an extensive Function room for community events.
• Also, there is a study Lounge facility to enjoy reading in a peaceful environment.
• One Pearl Bank has a beautiful dining Pavillion available where you could enjoy the meal with your loved ones and neighbors.
• Diligent interiors, quality fittings, and finishing is the key attraction for owners.
• Fitness and yoga deck facility is provided to residents.
• Barbeque is set for the residents to enjoy their BBQ parties.
• One Pearl Bank development is a blend of exclusivity as well as nature views offering a tranquil environment.
Unit Mix
One Pearl Bank Condo development is one of the tallest residential building that is strategically designed and has a modular outlay. The exclusive condominium development units are constructed and designed according to buyer types and preferences. The development is split into the studio to the penthouses and 1 to 4 bedroom apartments such as;
Unit Type Size No.of Residential Units
Studio 431 sqft 140
1-Bedroom 527 – 570 sqft 175
2-Bedroom 700 – 893 sqft 280
3-Bedroom 1,098 – 1,281 sqft 140
4-Bedroom 1,399 – 1,432 sqft 35
Penthouses 2,626 – 2,788 sqft
One Pearl Bank Unit Price
One Pearl Bank Condo is a newly launched exclusive condominium development that is highly valued due to its location and amenities in proximity. The estimated One Pearl Bank price range is given below;
Unit Type No.of Units Expected Pricing PSF Price
Studio 140 $970,000 $2,251
1Bedroom 175 $1.1 million $2,087
2-Bedroom 280 $1.5 million $2,143
3-Bedroom 140 $2.5 million $2,277
4-Bedroom 35 $3.5 million $2,502
Penthouses 4 - –
Balance Unit Chart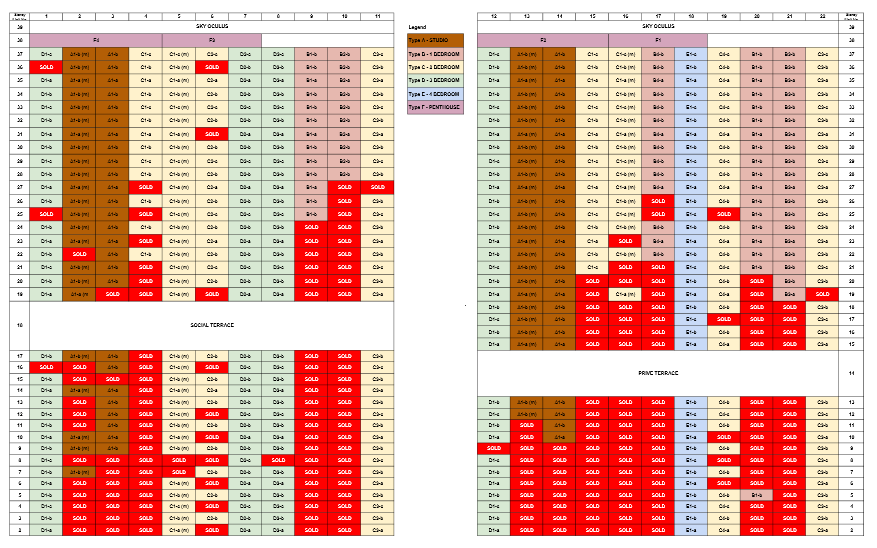 View More